Exam expectations:
Please enter through the door to the right of the canteen. Bags will be left in this foyer. You must wear full uniform. Please ensure you have a spare pen.
Candidates must bring the following into an examination room: all necessary equipment, including approved calculators if they are required, in a clear plastic bag. A clear water bottle.
Candidates may also bring into the examination room: an emergency evacuation pack in a clear sealable bag. Contents could include a cell phone (switched off), keys, money, bus or train pass and medicines. This bag stays under the candidate's chair and may not be touched or opened without the permission of the supervisor.
Candidates may NOT bring the following into an examination room: any electronic device which has the capability to store, communicate and/or retrieve information and including MP3 players and iPods, non-approved calculators, approved calculators where the memory has not been cleared, PDAs and electronic translators, dictionaries and cell phones (other than in an emergency evacuation pack.) These will be removed from candidates by supervisors and may be sent to NZQA. Supervisors will file a special report for these candidates, which may be treated as a possible breach of the rules. Full details of what constitutes a breach of the rules are available in the Assessment and Examination Rules and Procedures on the NZQA website.
During exams candidates need to be aware that: candidates must follow the instructions of the supervisor. This includes starting and stopping writing when instructed to. Failure to do so will be seen as a possible breach of the rules and may result in a formal investigation.
Candidates must only write in answer booklets which they want to have marked. If there are pre-printed personalised booklets in their exam pack for standards which they no longer wish to attempt, candidates must not write on, or in them in any way. Booklets which have been written or drawn on by candidates in any way will be treated as 'live' and will be marked according to the appropriate assessment schedule. Answer booklets left entirely blank will receive a 'standard not assessed' result.
Answers received on any paper other than official NZQA paper and not countersigned by a supervisor will not be marked. This may be treated as a possible breach of the rules.
Candidates who use correcting fluid, pencil or erasable pens in their answer booklets cannot have their booklets reconsidered as there is no way of ascertaining when or if an answer was altered. Incorrect answers and mistakes should simply be crossed out in pen. (Once booklets are returned in February, candidates must not write on, or in any booklets they want to have reconsidered). NZQA treats this as a possible breach of the rules and will undertake a formal investigation of any booklets that it believes have been altered by a candidate after the examinations.
All answer booklets must be handed in to the supervisor at the end of each exam. Candidates who inadvertently take answer booklets with them at the end of the exam cannot have these marked. It is important to double check the material handed in.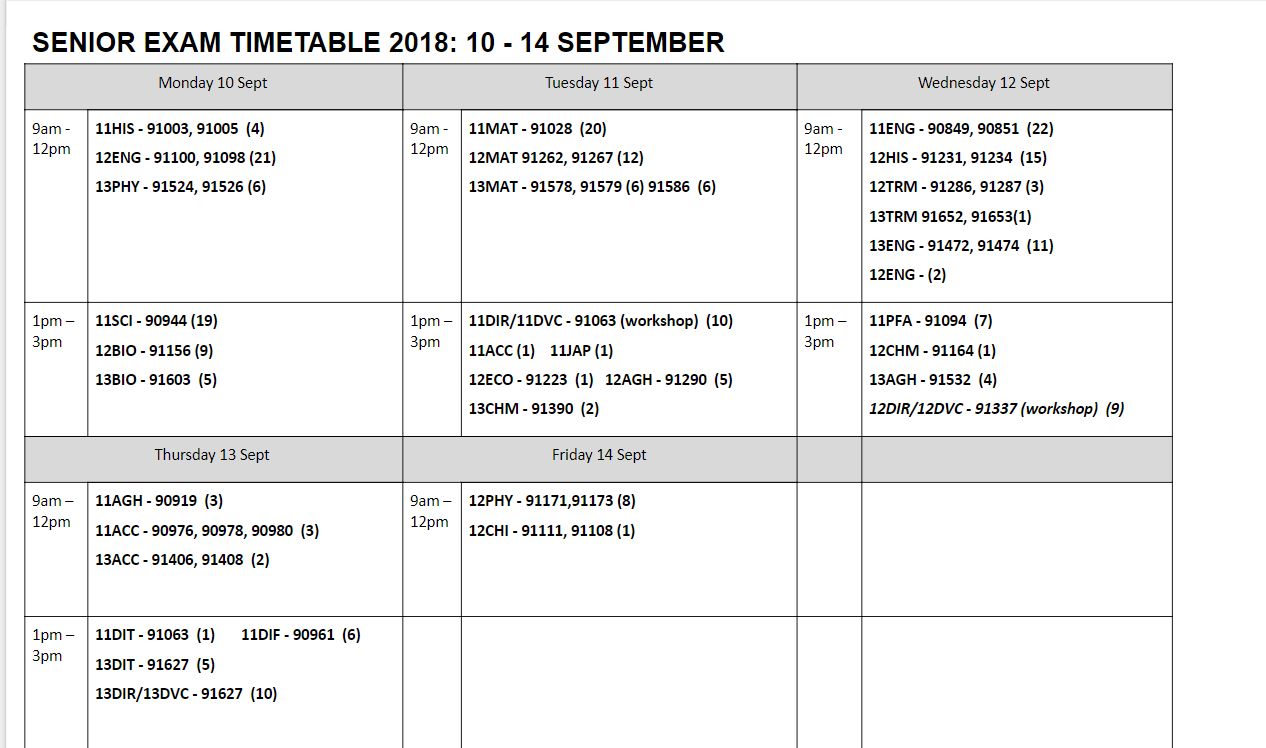 Ruapehu College Practice Exams – Week 8 Term 3 2018
You are required to stay in the exam for at least 45 minutes and cannot leave in the last 30 minutes of the 3 hour slot. After that you are free to leave when you have completed your assessment.
Normal classes will be running, if you are not in an exam you should be in class.
Please be in the foyer between the front office and the hall 15 minutes prior to your exam starting.